Downtown Updates and other news relevant to Downtown Guelph
Guelph Mercury Article - " Premiere Wynne meets with Guelph business owners about hydro costs"
Date Posted: Wednesday, March 15, 2017
Cuts are 'a great start,' one owner says
NEWS Mar 09, 2017
by
Chris Seto
Guelph Mercury
Premier Kathleen Wynne and Guelph MPP Liz Sandals visit the Bloom Room Floral Company in downtown Guelph on Thursday morning to speak with business owners Jason Dendekker and Francine Saliba about their hydro expenses.
Guelph small business owners say they're pleased with the province's plan to lower hydro bills, even if it means paying a little bit extra over a longer period.
Premier Kathleen Wynne was in Guelph Thursday morning to meet with two downtown business owners to chat about their hydro costs.
Wynne's first stop was at the Bloom Room Floral Company on Quebec Street. Joined by Guelph MPP Liz Sandals, the pair chatted with owners Jason Dendekker and Francine Saliba about Ontario's Fair Hydro Plan.
The plan was announced March 2 and involves reducing bills for ratepayers by roughly 17 per cent.
This will be done by essentially refinancing the debt on electricity assets, stretching out the repayment a little further into the future so ratepayers won't have to shoulder so much of the cost upfront. Pay less now, but pay a bit more in the future.
Add this to the eight per cent rebate of the provincial portion of the harmonized sales tax that was introduced in January and it adds up to a savings of 25 per cent. This announcement comes a little more than a year before the next provincial election.
Sitting in a cosy room on the second level of the store, the Bloom Room owners expressed their delight at the announcement.
With two coolers running all the time and an air conditioning system working hard to keep the 2,500-square-foot shop temperature controlled, the Bloom Room's electricity bills are higher than most spaces of this size.
Dendekker said they pay between $500 and $700 a month. He estimates that once these cuts come into effect this summer, the business could save more than $100 a month.
"I think right now it's a great start," he said.
"Everyone within Ontario is definitely going to see a difference on the hydro bills.
"I know there's a lot of infrastructure upgrading that has been done and that will need to be done. I'm well aware of the debt that Ontario has to take on as a result of doing this to help out individuals and families," he said.
While the debt is a concern to him, especially as a father, he said he sees these cuts to hydro bills as a positive move overall.
As part of the plan, rate increases over the next four years would be held to the rate of inflation for everyone.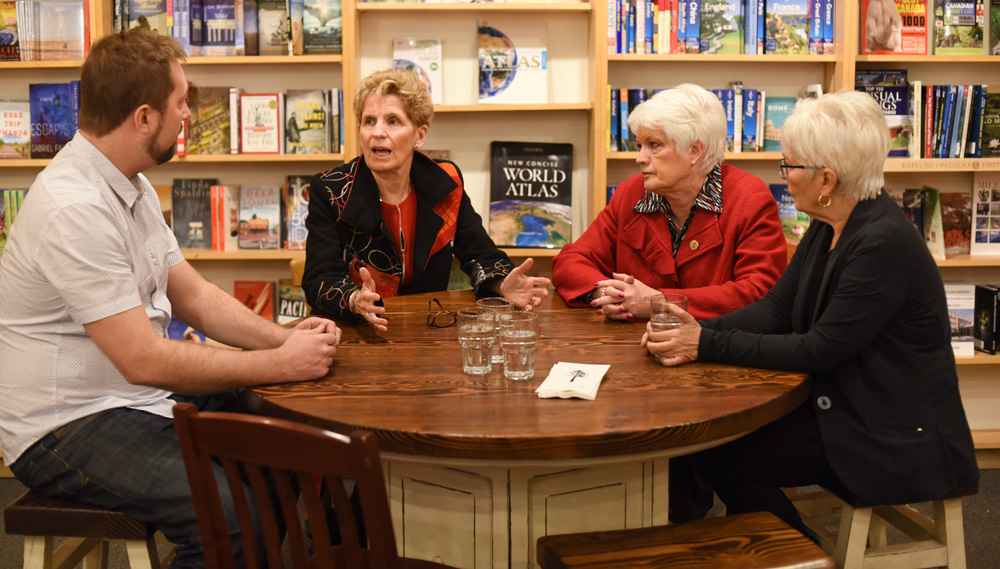 Premier Kathleen Wynne and Guelph MPP Liz Sandals visit The Bookshelf in downtown Guelph on Thursday morning to speak with owner Ben Minett and his mother Barb about their hydro expenses.
---
Wynne next stopped in to The Bookshelf for a sit-down chat with owner Ben Minett and his mother Barb. Sitting at a small table at the back of the store, surrounded by books, Ben expressed his delight in the electricity bills being cut. He also used the opportunity to praise the government's work in shutting down Ontario's coal power plants in an effort to combat climate change.
"The hydro bill going down is fantastic for us," he said. With the eBar, the movie theatre, the restaurant Miijidaa and a kitchen in the basement all under one roof, the hydro costs are huge. "We pay between $3,000 and $4,000 a month," Ben said.
"Politicians always say small businesses are the engine of the economy but there's always so much for small businesses to fight against," Barb said, adding every little bit of saving helps.
With the money saved, Barb said the business might consider putting solar panels on the roof to save even more money.
Wynne said over the past few years, the government has made large investments in electricity infrastructure projects across the province, but these investments weren't financed the right way.
"The costs need to be spread out over a longer period of time," she said. "If we had it to do again, we'd probably spread those costs over a longer time to start out with. That would have been the fair thing to do. Better late than never."
The savings should show up on hydro bills by the summer, she said.